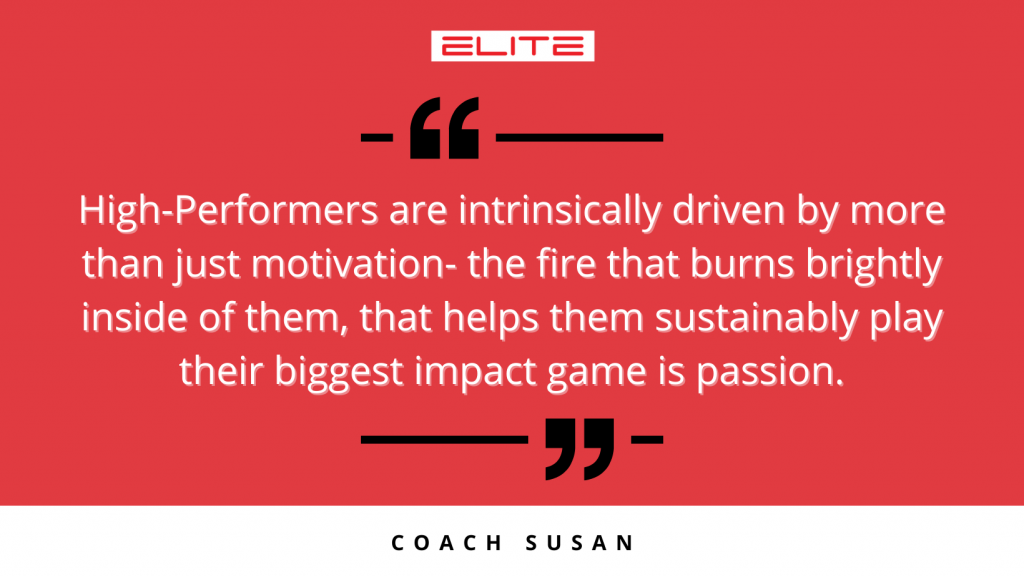 High-Performers are intrinsically driven by more than just motivation- the fire that burns brightly inside of them, that helps them sustainably play their biggest impact game is passion. 
High-Performers are deeply passionate people who care very deeply about how they show up in the world. 
They take the time to intrinsically validate and cultivate that which they care most deeply about so that they can get into alignment with who they truly are and why they are here. 
They honour their passion and use it as a guide, like an internal GPS, showing them where to strategically invest their time, energy, and focus. 
They know if they're not passionate about something they're going after, then it's not the right target or goal. 
Passion is a growth need – we simply cannot realize the max potential in this life without it. 
Do you know what your core passions are? Have you taken the time to cultivate yours and gain clarity around your passion? Do you use your passion to inform where to invest your time, energy, and focus?
True High-Performance requires that we dive deeply into this concept – so that's why we've decided to explore this concept here at Team Elite this week. 
Your highest potential is OUR passion, so let's get unleashing it together by discovering yours!
-Coach Susan